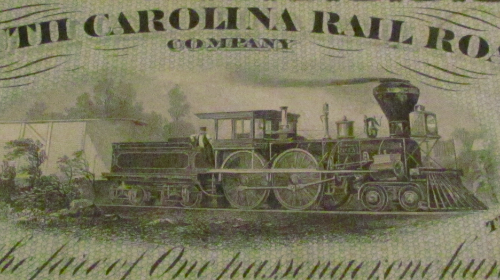 But the story of the exploits of the Treasure Train and the treacherous trek of the Rich Bank Gold — which were largely co-joined for hundreds of miles in railroad cars and wagon trains — continued to create controversy for years to come.
The "Confederate Gold" or the Confederate Treasury — how money was there and how much was really parsed out and to whom — was still being argued about twenty years after the fact by the various key Confederate personnel who were on the "Treasure Train." George Trenholm was suspected of purloining a good chunk; there was a massive disbursement to a contingent of cavalrymen down by the Savannah River; paper money was burned by the bale in Georgia — and venerable General Joe Johnston publicly decried the handling of the funds after the smoke cleared and the War was over.
The "Richmond Bank Trove" — consisting of hundreds of thousands of gold coin and bullion that was (for a time) dedicated to the Commissary Department of the War Department of the CSA — was subject to even greater scrutiny, rumors and ultimately legal action. After the Confederacy had dissolved, the Bank money — which included other private funds — was permitted (for a while) to be conveyed by wagon train back to  Richmond from the Deep South. But it didn't turn out to be a smooth ride — and some of that money ended up in the hands of bushwhackers and some in US  Treasury.
A lengthy legal battle — with ton of witnesses and affidavits — ensued in the Court of War Claims (U.S. House of Representatives), beginning in 1866 — not long after the War ended and it all began because of that wandering wagon train full of Richmond gold. It got held up not once, but twice. And to make matters worse, authorities wondered "who really is entitled to claim this money?"
We're not letting the cat out of the bag, not yet . . . but the case wasn't settled until eighteen hundred and ninety-three!!! Twenty-seven years after the case began!!! Quite possibly making this the longest, most drawn-out battle of the War of the Rebellion!!!
**Book…$37.99
**Shipping and Handling…$10
**LIMITED TIME ONLY**